OK, first of all my kids got up waaaayyyy to early for me this morning so if I mess something up please forgive me and let me know.
Secondly, don't ever try to take a pair of slippers off a child who thinks she's a princess in them, because you WILL have a fight on your hands. I tried to get my daughter's off when I went to bed last night and she threw a fit! Then every 2 minutes for the next half hour she'd grab her feet to make sure they were still there. So this morning she has little sweaty, stinky feet but she's happy, so oh well.
Thirdly, terrible two's with twins is just down right frightening. They fought all day yesterday. He couldn't look at her without her getting mad. But at the end of the day they cuddled up together and slept, so maybe they won't kill each other after all.
Well enough about that lol.....on to the freebie.
I've had these for a while and just think they as so cute, if I do say so myself. I hope you feel the same.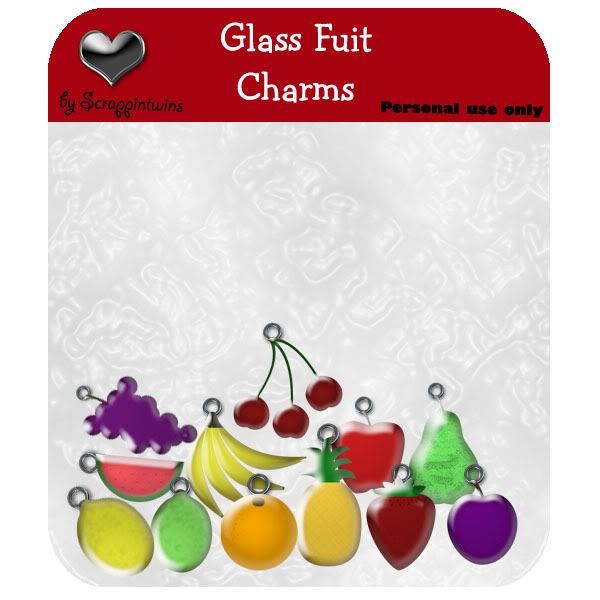 Grab them at
http://www.4shared.com/file/25926863/f803505f/Fruit_Charms.html
Thanks sooo much for all the great comments. They have made my day! Please keep them coming!!! And Marti, I'm working on a little something just for you lol. I love grunge and glitter too! Thanks for the suggestion.
Don't forget, Friday is the big day...A whole kit for you to enjoy. I may give you a little peek in a day of so....